3M x 3M Cross Cable Tent
1010K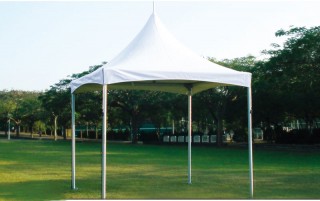 3M x 3M Cross Cable Tent (1010K)
Design with fashion steamline in romantic white. Premium SERGE FERRARI fabric applied.
Our quality fabric is made in France, it is also called FERRAIR in tent field.
Suitable for any kinds of event, outdoor café or party.
Specification
Dimension: 3m x 3m in metric unit (10' x 10' in Imperial unit)
Peak Height: 3.76 m
Total Pole Length: 2.8 m or 2.4 m
Total Area: 9m2
* Pole is alternative in length of 2.8M and 2.4M if required.
* Please choose the right and fit optional accessories if required.
Features
1. Frames are made out of aluminum alloy for maximum durability and keep from corrosion.
2. Fabric is fire retardant and NFPA 701 standard approved.
3. The PVC coated tent cover effectively prevent direct exposure to UV rays.
4. Fabric is treated with PVDF dirt resistance, it allows easily maintaining and caring with clear water.
5. Effort-saving for assembling and transportation. Enhance stability and wind resistance.
6. Design with fashion steamline, suitable for any kinds of event, outdoor café or party.
Feature
Type of Top
Material
Weight
Structure of Pole
Frame Material
Structure of Tent 
Expiry for long term built
Cross Cable Tent
Steamline center top with excellent drainage
UV blocked and PVDF dirt resistance treated 
Premium quality PVC coated fabric
Keder system enable additional sidewall 
Aluminum Alloy
Excellent stability and equilibrium
Last longer
8 years above
Normal Tent
Smoother curved 
Direct sunlight blocked, sunray penetrable
Regular PVC fabric
Round tube with limited further usage
Steel or chrome coated 
Frame structure support with weak wind resistance
Last about 3 - 6 months
Applications
Outdoor Wedding
Farming Resort
Temporary Classrooms
Activity / Event
Restaurant / B&B / Hotel
Carnival
Prefabricated House
Conference / Dining
Outdoor Café
Ceremony
Tradeshow / Events
Live Show Theatre
Campaign Headquarter
Events / Activities
Contact Wen's Phoenix to Get a Quotation Now!