(10M.15M.20M.25M)Structure Tents
15M x 15M Cross Cable Tent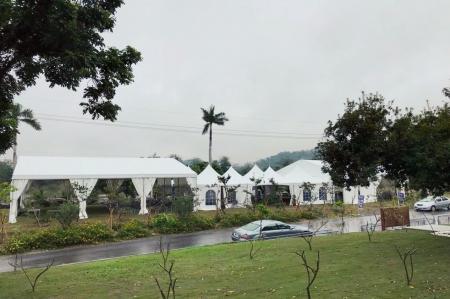 Show list view
Show grid view
Tent roof material imported from France double PVC mesh cloth, the tarpaulin with anti-tear. Anti-ultraviolet good performance, opaque, water & flame resistant reached the level of European and American countries flame retardant standards. Using high-frequency welding technology, tent wind resistance capacity of 80-100 km / h.
Search
Wen's Phoenix (10M.15M.20M.25M)Structure Tents Service Introduction
WEN'S PHOENIX CORPORATION is Taiwan (10M.15M.20M.25M)Structure Tents supplier and manufacturer with more than 26 years experence. Since 1988, in the Any Outdoor Shade Industry, Wen's Phoenix has been offering our customers high quality (10M.15M.20M.25M)Structure Tents production service. With both advanced technology and 26 years experience, Wen's Phoenix always make sure to meet each customer's demand.
Wen's Phoenix welcome you to view our other quality products and feel free to
Contact Us
.