Cross Cable Tents
Sail Shade,Cross Cable Tents,Outdoor Tents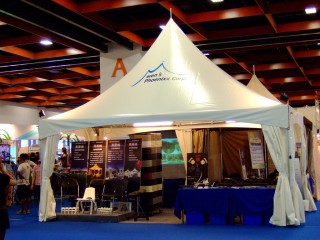 1. Frames are made out of aluminum alloy for maximum durability and keep from corrosion.
2. Fabric is fire retardant and NFPA 701 standard approved.
3. The PVC coated tent cover effectively prevent direct exposure to UV rays.
4. Fabric is treated with PVDF dirt resistance, it allows easily maintaining and caring with clear water.
5. Effort-saving for assembling and transportation. Enhance stability and wind resistance.
6. Design with fashion steamline, suitable for any kinds of event, outdoor café or party.
Feature
Type of Top
Material
Weight
Structure of Pole
Frame Material
Structure of Tent 
Expiry for long term built
Cross Cable Tent
Steamline center top with excellent drainage
UV blocked and PVDF dirt resistance treated 
Premium quality PVC coated fabric
Keder system enable additional sidewall 
Aluminum Alloy
Excellent stability and equilibrium
Last longer
8 years above
Normal Tent
Smoother curved 
Direct sunlight blocked, sunray penetrable
Regular PVC fabric
Round tube with limited further usage
Steel or chrome coated 
Frame structure support with weak wind resistance
Last about 3 - 6 months
Sub Category
Search
Wen's Phoenix Cross Cable Tents Service Introduction
WEN'S PHOENIX CORPORATION is Taiwan Cross Cable Tents supplier and manufacturer with more than 26 years experence. Since 1988, in the Any Outdoor Shade Industry, Wen's Phoenix has been offering our customers high quality Cross Cable Tents production service. With both advanced technology and 26 years experience, Wen's Phoenix always make sure to meet each customer's demand.
Wen's Phoenix welcome you to view our other quality products and feel free to
Contact Us
.